Registration & Payment
To register for :
Training, workshops and seminars courses, email us using the printable official registration form in pdf format. (Click here to download)
Operating Hours:
Customer service representatives will answer your enquiries from :
Monday to Friday: 9.00 a.m. to 6.00 p.m.
Saturday: 9.00 a.m. to 12.00 p.m.
Telephone: (65) 6219-9062 (Singapore)
Payment Options
Payment of course fees is required prior to the course start date.
You could submit your payment in the form of :
PayNow:  UEN 200311572G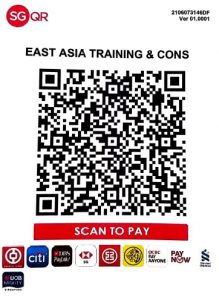 Credit Card: We accept VISA and Mastercard. All credit card payments are subject to 4% processing & bank surcharges. Please call our order desk at 65-62199062 to pay by credit card.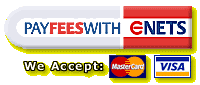 Local or International Wire Transfers: For payment of fees via inter-bank GIRO funds transfer or telegraphic transfers, please wire funds to our bank's address below:
United Overseas Bank Ltd
211 Holland Avenue
#01-12
Singapore 278967
Swift Code: UOVBSGSG
Account Name: East Asia Training & Consultancy Pte Ltd
SGD Account Number: 120-313-350-8
USD Account Number: 120-900-347-9
Prices are listed in Singapore dollars. Please pay in Singapore dollars. Your cost fee includes course materials, data-sets, luncheons and two tea/coffee breaks. The number of participants is restricted. Please register early to guarantee your place.
Confirmation
Once your course registration is confirmed, you are required to pay the full course fee. You will receive an email with information about the specific training and/or seminar hours, venue, location, conveniently located hotels and public transportation after payment.
What to Expect in Training
Participants will receive comprehensive course and reference materials, which are distributed the first morning of training.
East Asia Training & Consultancy Pte Ltd training courses take place in a PC training environment. The pedagogic approach is hands-on and interactive and required participants full attention during training. Please minimise the conduct of business during training.
Participants will receive a certificate of participation upon attending the entire course.
Casual business attire is appropriate for all courses. Audio recording and videotaping are prohibited.
If you need assistance in locating hotel accommodation in the area or in booking your hotel accommodation, please request the assistance of our Training Department at training@eastasiatc.com.sg
Fees / Refund / Transfer / Cancellation Policy
Attendees are required to pay the full course fees once the seat is confirmed.
All fees must be paid prior to the commencement date of the course.
We reserve the right to refuse admission if full payment has not been made.
Registration closes 5-calendar days prior to the start of the course. However, in the event that the
class is full, registration will close before the deadline.
Refund & Cancellation :

100% fee returned for cancellations made over 28-calendar days prior to start of the course.
50% fee returned for cancellations made over 14-calendar days prior to the start of the course.
No fee returned for cancellations made less than 14-calendar days prior to the start of the course. However, you may substitute for an alternate delegate without any penalty charge.
If the class is postponed by EATC, a similar class will be arranged at a later date. In the event that the attendee or the substitute does not want to attend the class at a later date, a 10% administrative fee is charged by EATC.
Alternate Trainer
We reserve the right to replace the announced trainer if the trainer becomes unavailable due to unforeseen circumstances.
Internet Access
We do not provide internet access during our trainings. This is to ensure that maximum attention is given during the lesson. If you need internet access, please approach the front desk office.